Slippers, Shoes and Boots


This fine kid leather ladies' halfboot is elegant enough for fancy wear, yet simple enough for everyday.  $3.00

These illustrations are by Keturah Oakley, and are

Copyright MM.  If you wish to use these illustrations for any purpose, please contact me at
missketurah@homestead.com
.  Thank you!

Do you constantly misplace your button hook?  Why not try our fine kid leather laceup halfboot instead?  $3.00


Low heels on this excellent kid leather model will keep your comfortable on your feet all day long.  $3.00


This reasonably priced boot of jean fabric will give you comfort and value.  Available in natural, blue, black, red, and brown.  $1.25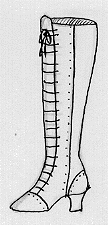 This jean boot has a higher heel, to lend height to the shorter lady.

Available in black, brown, natural, buttercup yellow, and red. $1.95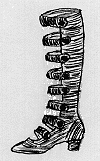 This fancy Roman boot has eight buttons, and is made of the finest

black patent kidskin.  Wear over your best colored stockings

(available in our unmentionables department).  $5.95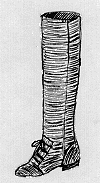 This ladies' riding boot is in the finest quality full-grain calfskin,

for added durability and stability.  Available in black or dark brown. 


                                                                                                          $7.00

This ladies' Western riding boot is suitable for the wild terrain that surrounds us.  Made of the highest quality calfskin, and stitched in the Texas tradition.  $6.00

valued visitors since January 25, 1880